தமிழில் நிரல் எழுது - Write code in தமிழ்
Hello everyone! Hope this finds you in good spirits. In North America, Boston especially, the cold weather and holiday season is our Deepavali as it were. Cold weather and festive season brings a lot of joys and challenges – but today I want to talk about the challenges of exchanging Tamil text/information on the Internet.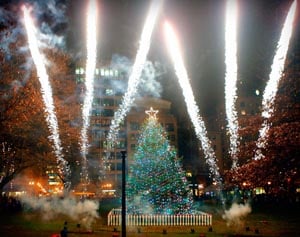 Christmas tree lighting ceremony at Boston Common. Dec, 2014.
History of Tamil encodings
Tamil encoding has a long history with 8-bit extended ASCII called TSCII, TAM (Tamil Monolingual)/TAB (Tamil Bi-lingual) encodings of the late 80s and early 90s.
Then enter Windows. Microsoft Windows with the Microsoft Word let some Tamil software vendors introduce font-based encodings. This probably is the most egregious of all Tamil encoding methods invented, IMO. Still this would show the books in fonts like Latha, Lohit etc. You needed the right font-map  with glyphs independent of encoding to read the text. Otherwise…
View original post 402 more words